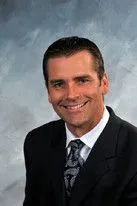 Dr. Berry is licensed by the California Board of Chiropractic Examiners and a certificate holder of the National Board of Chiropractic Examiners. He is licensed by the State of California as a Radiography X-ray Supervisor and Operator. He did his undergraduate studies in biology at the California State Universities, Chico and San Diego. Dr. Berry achieved academic honors while attending the Los Angeles College of Chiropractic where he graduated with the Doctor of Chiropractic degree and then completed his clinical internship in early 1997. He has been a colleague of La Costa Chiropractic since 1996, and the Clinic Director since 2005.
Dr. Berry continuously challenges and updates himself with continuing education seminars, conventions and symposiums focusing on a variety of topics including sports injuries, traumatic injuries, pediatrics and advanced topics in clinical chiropractic. He received a postgraduate diploma from the Chiropractic Leadership Alliance in electromyographic theory, technique, and interpretation. Dr. Berry was the recipient of the "Chiropractor of The Year" award in 2009 from The Masters Circle group.
Dr. Berry sees patients of all ages and uses a variety of techniques in his practice including; Diversified, Upper Cervical Specific, Thompson drop table, Cox flexion/distraction technique, and Activator method. Dr. Berry directs his practice towards allowing chiropractic to help improve his patients' health naturally while addressing their symptoms, prevention, overall spinal function and wellness. Dr. Berry takes pride in the fact that he has helped many patients avoid surgery, require less medication, recover from injuries, and help conditions where traditional medicine was unsuccessful.
Dr. Berry enjoys being active in the North County community. He is a member of the Carlsbad Chamber of Commerce, has served as the team chiropractor for the North County Cheetahs semi-pro football team and has provided his services to the San Marcos High Football Team.
Out of the practice, Dr. Berry is a native Californian and was born and raised here in North County. He was an oarsman for the San Diego State University Men's Crew Team and currently enjoys surfing, snow skiing, exercise, outdoors, and time with his wife and children.
Mission: To educate our patients and help our patients improve their health and wellness naturally, through chiropractic care.
To schedule an appointment CLICK HERE and request Dr. Berry in the comments box.
To email Dr. Berry CLICK HERE.
Chiropractor of the Year 2009
Testimonials:
I have been going to Dr Berry for years and he is the best chiropractor I have ever found. He is extremely knowledgeable and professional I never have to wait for long periods of time in his office and he is so kind. He has treated me when I have been pregnant as well and it has helped me immensely. His prices are very affordable and his staff is top notch. Every time I leave his office I feel energized and so much better it is worth every penny. I would highly recommend Dr Berry to anyone.
Victoria M.,Carlsbad

"I had a great experience at La Costa Chiropractic while dealing with severe back pain. A friend recommended Dr Berry to me and I am so grateful I listened to her. I was greeted by a very friendly staff which was much appreciated and was seen quickly. I was given great treatment and advice by Dr Berry not only for my back pain but for overall wellness to improve my back for years to come. I feel great!
Karl Makinen, Encinitas

Dr. Berry is the BEST! I've always had problems with my back ,and ear infections before I met Doctor Berry, now ever since I've been under his care I FEEL GREAT! Thank you Dr. for all you do for patients like me... You are TRULY APPRECIATED!
Soraya F., San Marcos
"I heard about La Costa Chiropractic & Wellness from a co-worked and his wife who have been patients for a couple of years. I first came in because another friend became a patient and highly recommended that I visit the office, due to my complaints of headaches and lower back pain. Since beginning chiropractic care, my improvements have been gradual and constant. However if I don't follow through with the recommended stretches and exercises, I can really feel and "pay" the difference between appointments. I enjoy the convenience of early a.m. appointments and the entire staff is very pleasant. I also enjoy the "seasonal" promotions, contests and donation drives to assist the local community and don't forget the educational wellness seminars too!"
Coleen A.

"I first heard about La Costa Chiropractic & Wellness from a friend and first came in because of lower back pain. Since beginning chiropractic care, my improvements have been resulting in a higher quality of life. I would recommend Dr. Berry to anyone in San Diego. I have tried other doctors but no one has done a better job than Dr. Berry"
Brian C.
I have known Dr. Berry and the staff at La Costa Chiropractic for over five years now...and I can attest to the healing abilities and his caring attitude. I was not a true believer in this type of care until meeting and expirencing Dr. Berry's "healing hands". Is WOW good enough of a word?! Because that's just how I felt after my first session. No more nagging aches...no more feeling old...just feeling great! One note here...I have been to other providers in this field and always walked away with a feeling of "oh well'. There is a huge difference in technique within this field of doctors just like any other...glad I found Dr. Berry and his team.
Wayne J..

It was important to me to send to you this e-mail regarding my recent visit to your office on Friday the 23rd of September. I was driving to San Clemente for a morning meeting with a customer. I knew that I needed an adjustment. I called your office at approximately 10 minutes before 8:00 a.m. Sheila answered the phone. I asked her, if it was possible to get an appointment with you and that I needed to walk out of the door by 8:45 a.m. She said that she would make it happen. I arrived a few minutes later and I was put ahead of other patients that were in your waiting room. I received the pre-treatment and then an adjustment by you. I walked out at 8:45 a.m. and I was on time for my meeting. I would like to thank you and your entire staff for going above and beyond the call of duty for me that day and delivering a level of customer service that sets you apart from the others. I would like to mention all of them by name, however, I cannot, as I may forget someone. Again, many thanks to all!
Best regards,
Mike Diaz, Vista