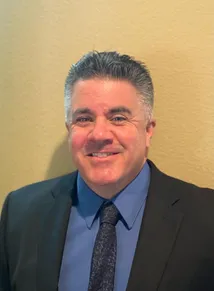 Dr Salmon is licensed by the California Board of Chiropractic Examiners. He did his undergraduate studies in exercise physiology at the University of Southern California and masters studies and research at Long Beach State University in physiology. Dr. Salmon received his doctorate of Chiropractic degree in 1999 from Life Chiropractic College in n Murrieta, GA in 1999. He opened his own practice in Lake Elsinore, CA in 2000 and practiced there until 2011 when he began working as a surgical consultant for Stryker Orthopedics and Johnson & Johnson until joining La Costa Chiropractic in December of 2020.
He is the creator of an app used by physical therapist across the world for the proper placement and use of electrical muscle stimulation. The app can be found at www.Axelgaard.com/ea. He began coaching shot put and discus at Cathedral Catholic High School in 2011 and continues today. He states, "it's a good thing to see young athletes throw well, but it is awesome thing to see their confidence and self esteem grow through hard work and effort." Dr. Salmon is known for recruiting seemingly unlikely athletes and turning them into great throwers.
Dr. Salmon sees patients of all ages and uses a variety of techniques in his practice including; Diversified, Upper Cervical Specific, Thompson drop table, Cox flexion/distraction technique, and Activator method. Dr. Salmon directs his practice towards allowing chiropractic to help improve his patients' health naturally while addressing their symptoms, prevention, overall spinal function and wellness. Dr. Salmon takes pride in the fact that he has helped many patients avoid surgery, require less medication, recover from injuries, and help conditions where traditional medicine was unsuccessful.
Dr. Salmon enjoys being active in the North County community. He is a member of the Carlsbad Rotary Club and has an affinity for helping those recovering from addiction and volunteers at Brother Benos Recovery Center as well as Startup Recovery in Los Angeles. He is also a member of the St. Elizabeth Knights of Columbus.
Dr. Salmon is a native Californian and was born and raised here in San Diego. He is the son and grandson of tuna fishermen as well. He has competed in Powerlifting and currently holds the California state squat record for men over 50 at 623 lbs. He can be found outside of practice with his wife, 2 daughters and a Husky named Luna.
His philosophy on chiropractic is to detect and correct spinal subluxation, restore health, restore motion and bring the patient back to an active lifestyle.